Soldiers guard the entrance to a Hamas tunnel in the Gaza Strip, in a handout photo published November 9, 2023. (Israel Defense Forces).


US; Israel agrees to daily humanitarian pause; Israel: Nothing new.
Long-range missile toward Eilat intercepted.
PIJ sends sign of life from 2 hostages. IDF ground op toll at 35.
IDF captures terror stronghold as troops said closing in on Shifa Hospital's Hamas HQ.


The Israeli Defense Force said its troops captured a major Hamas stronghold in west Jabaliya, just north of Gaza City, in the early hours of Thursday morning following 10 hours of fighting, as the military meanwhile pushed further into the heart of Gaza City where the terror group is believed to have its underground headquarters.
The IDF said that Nahal Infantry Brigade troops battled Hamas and Islamic Jihad operatives in the west Jabaliya stronghold known as Outpost 17, who were both "above ground and in an underground route in the area," and that dozens of terror operatives were killed in the course of the battle.
Inside Outpost 17, the IDF uncovered "significant" Hamas battle plans, as well as weapons and tunnel shafts, one of which was located adjacent to a kindergarten and led to an "extensive underground route," the IDF said.
Also on Thursday morning, the IDF announced that it killed a senior Hamas commander responsible for the terror group's anti-tank guided missile (ATGM) operations in central Gaza.
In a joint statement with the Shin Bet security agency on Thursday, the IDF said that Ibrahim Abu-Maghsib was the head of Hamas's ATGM array in the so-called central camps brigade and shared video footage of the strike.
"As part of his position, he directed and carried out numerous anti-tank missile launches directed at Israeli civilians and IDF soldiers," the statement added.
Inside Gaza City's Sheikh Radwan neighborhood, forces also uncovered a Hamas drone manufacturing plant and weapons depot inside a residential building located next to a school.
Footage shared by the IDF shows troops finding several Hamas drones in the building, as well as equipment used to manufacture them, and instructions to make explosive devices.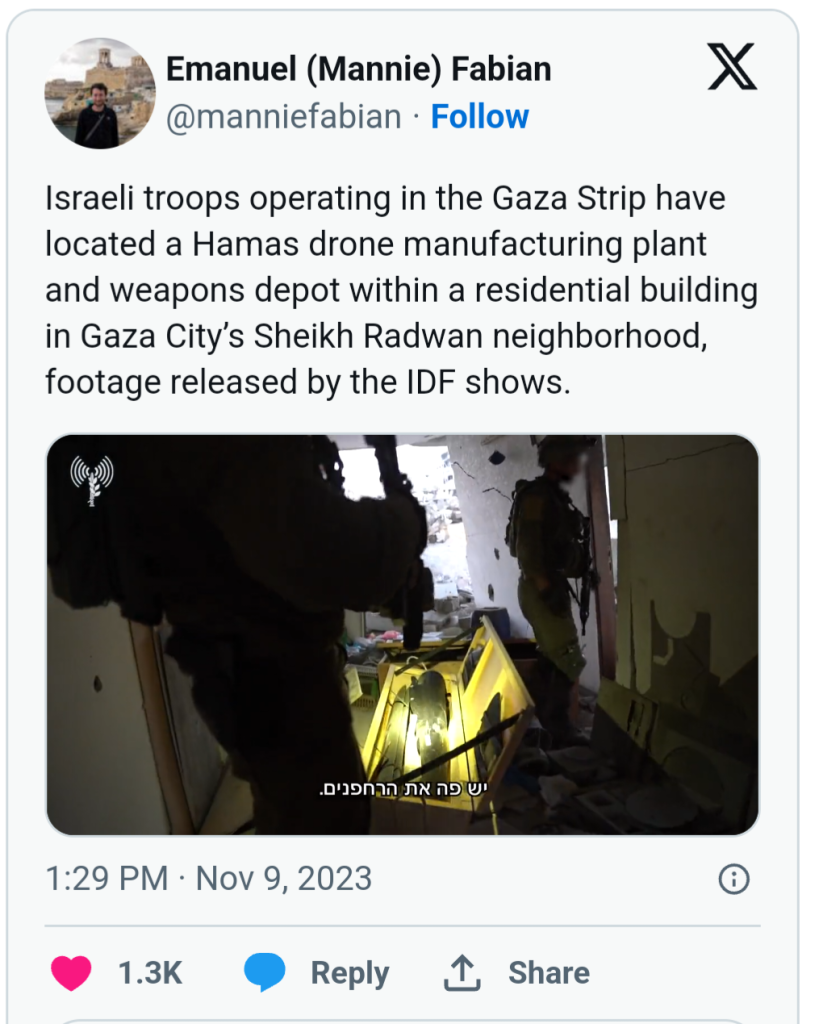 Adjacent to the manufacturing site and weapons depot is a children's bedroom, the IDF said, adding that several bombs were recovered from the site.
The Thursday morning updates from the IDF did not immediately provide any new information on potential casualties among troops during the battle. Overnight, the IDF announced the death of Master Sgt. (res.) Eliahou Benjamin Elmakayes, 29, from Jerusalem.
A soldier of the Combat Engineering Corp's 8219th Battalion, Elmakayes was killed during fighting in the central Gaza Strip on Wednesday, bringing the toll of slain soldiers in Israel's ground offensive in Gaza to 34, and 352 since October 7.
Additionally, an officer and soldier of the Paratrooper's 202nd Battalion, a reservist officer of the 551st Brigade's 697th battalion, and a soldier of the 551st Brigade's 6551st Battalion were seriously wounded in separate clashes in Gaza yesterday.
As Israel's ground forces continue to forge a path through the northern Gaza Strip, where fighting rages, the IDF again opened an evacuation corridor for civilians to escape southward.
Arabic-language spokesman Lt. Col. Avichay Adraee wrote on X, formerly Twitter, that Israel would open Salah-al-Din Street for southward traffic between 10 a.m. and 4 p.m. Previous days saw the corridor open for only four hours.
He added that on Wednesday some 50,000 Gazans took advantage of the safe route to head to southern Gaza.
"Do not listen to what some Hamas leaders say from their hotels abroad or from the underground places they have arranged for themselves and their family members," Adraee warned. "For your safety, take advantage of the [opening of Salah a-Din] to move south, beyond Wadi Gaza."
Hundreds of thousands of Palestinians have heeded Israeli urging in recent weeks to flee south to get out of the way of the ground assault.
"We didn't have food or drinking water. … They struck the bakeries. There is no life in Gaza," said Abeer Akila, a woman fleeing south with her family.
Majed Haroun, a teacher who remained in Gaza City, said women and children who lost families go door to door begging for food.
"No words can describe what we are experiencing," he said.
Israeli forces advancing from the northwest along the Mediterranean coast have been clashing with fighters inside Shati, a dense neighborhood adjacent to Gaza City's center, two residents told The Associated Press on Thursday.
The past nights saw heavy strikes of Shati.
Broken palm trees, distorted road signs and twisted lampposts marked the ruins of what was once north Gaza's main arterial route, an AFP journalist saw while embedded with Israeli soldiers.
Israeli flags were flying over buildings at beach resorts in northern Gaza and there was little sign of any human presence amid the destruction.
Even as the IDF closes in on Hamas hot spots in northern Gaza, a rare delivery of emergency medical supplies reached Al-Shifa Hospital, the UN confirmed overnight.
Israel has presented evidence in recent weeks that Hamas's main command center is located underneath Shifa and accused the terror group of using the hospital and its occupants — with 1,500 beds and some 4,000 staff — as human shields.
Eyewitness accounts from inside Gaza City recount seeing and hearing Israeli ground forces as they continue to close in from multiple directions. Other reports have said that fighting took place just one kilometer from the perimeter of the hospital.
"At dawn, a shell landed very close to the hospital, but thank God only a few people had minor injuries," Shifa director-general Mohammed Abu Selmia said. "The conditions here are disastrous in every sense of the word."
"We're short on medicine and equipment, and the doctors and nurses are exhausted. … We're unable to do much for the patients."
In a joint statement, the UN and the World Health Organization confirmed that the supplies had reached Gaza's largest hospital, but said that "the quantities we delivered are far from sufficient to respond to the immense needs in the Gaza Strip."
The international bodies described conditions at the hospital as "disastrous," with "almost two patients for every bed" as "the number of wounded increases by the hour."
Doctors were being forced to treat wounded and sick patients in corridors, on the floor and outdoors, "while patients are undergoing immense and unnecessary pain as medicines and anesthetics are running out," they continued.
At the same time, tens of thousands of displaced people have sought shelter in the hospital's parking lots and yards since October 7.
Palestinian and international aid officials have been warning since the start of the war of that food, medicine and fuel were on the verge of running out.
An Israeli military official on Thursday denied there is a humanitarian crisis in the Gaza Strip, even as he acknowledged the enclave faces several challenges amid the ongoing war.
"We know the civil situation in the Gaza Strip is not an easy one," said Colonel Moshe Tetro, head of coordination and liaison at COGAT, the Israeli Defense Ministry body handling civil affairs in Gaza. "But I can say that there is no humanitarian crisis in the Gaza Strip," he told reporters.
Israel also alleges that Hamas has stockpiled thousands of liters of fuel and other supplies that it is withholding from civilians.
The Hamas terror group launched a shock onslaught on October 7, killing some 1,400 people in Israel — mostly civilians — and taking at least 240 men, women and children to Gaza as hostages. Israel has vowed to destroy Hamas and remove it from power in the Strip but has also had to contend with rocket fire from Lebanon and deadly attacks along its border with that country.
The October 7 Hamas attack came with a barrage of thousands of rockets fired at Israeli population centers. Hamas and other terror groups have continued raining rockets on Israel, causing more deaths and damage. Over 200,000 Israelis have been displaced by the attacks.
The Hamas-run health ministry claims that more than 10,500 Gazans have been killed since the start of the war, a figure that cannot be independently verified and includes those killed by failed Palestinian rocket launches at Israel. Hamas has been accused of artificially inflating the death toll, and does not distinguish between civilians and terror operatives.