These images taken from an IDF video published November 19, 2023, show a Hamas tunnel found under Gaza City's Shifa Hospital. (Israel Defense Forces).


The Israel Defense Forces and Shin Bet security agency release new footage showing part of Hamas's tunnel network underneath Gaza City's Shifa Hospital, where the terror group is believed to have a main command center.
Clips are published from two separate devices that were lowered into a tunnel entrance discovered by the IDF on Thursday in the Shifa complex.
The tunnel shaft had been located on the hospital grounds under a canopy, where IDF troops had also found a Hamas pickup truck with weapons in it, similar to those used by the terror group in the October 7 attacks.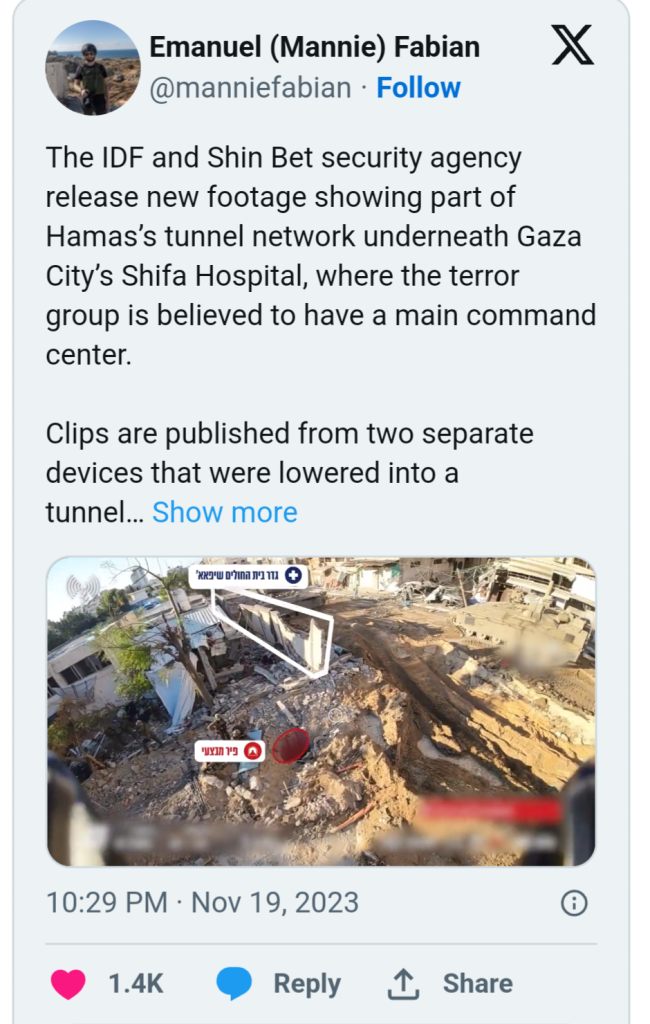 The new videos show that the tunnel shaft has a winding staircase from around three meters deep, continuing down for another seven meters until it reaches part of the tunnel network. The tunnel continues for five meters, before turning to the right and continuing for another 50 meters.
At the end of the tunnel, the footage reveals a blast door with what the IDF says is a gunhole for Hamas to shoot through.
"This type of door is used by the Hamas terror organization to block the ability of our forces to enter the organization's headquarters and underground assets," the IDF says.
"The findings prove beyond all doubt that buildings in the hospital complex are used as infrastructure for the Hamas terror organization, for terror activity. This is further proof of the cynical use that the Hamas terror organization makes of the residents of the Gaza Strip as a human shield for its murderous terror activities," the IDF adds.
The IDF and Shin Bet say they are continuing to operate at Shifa to expose Hamas's tunnel network in the area.