Hamas weapons found inside Gaza City's Shifa Hospital, following a raid by Israeli special forces, November 15, 2023. (Israel Defense Forces).


The Israel Defense Forces releases evidence of Hamas weapons found inside Shifa Hospital during a raid in the medical center today.
It says members of the elite Shaldag unit and other forces of the 36th Division found the weapons inside Shifa's MRI center.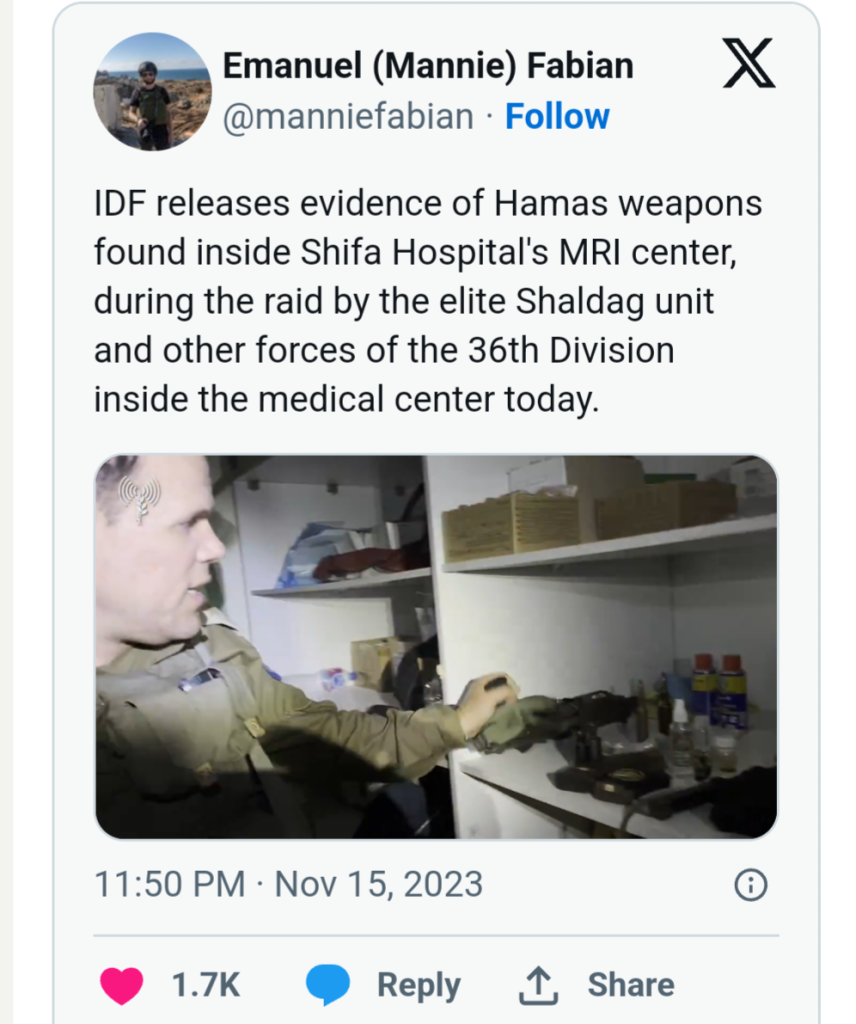 Troops had battled Hamas gunmen outside the hospital, killing five.
"During searches inside one of the hospital's wards, the troops located a room containing unique technological means, combat equipment, and military equipment used by the Hamas terrorist organization," the IDF says.
It publishes images and videos showing several assault rifles, grenades, and other military equipment. It says that in another ward, it found a Hamas operational headquarters and "technological means" which it says indicates Hamas's use of the facility for terror
IDF Spokesman Rear Adm. Daniel Hagari, in an evening press conference, says troops found Hamas uniforms "that were thrown on the hospital floor so that the terrorists could escape in civilian guise."
"These findings unequivocally prove that the hospital was used for terror, in complete violation of international law," he says.
The IDF says it will continue to operate in Shifa Hospital, under which Hamas is believed to have its main command center, in order to find intelligence information and Hamas assets.